the angel meets his devil
Carl Zuckmayer, Karl Vollmöller, Robert Liebmann, and Josef von Sternberg (screenplay, based on the novel by Heinrich Mann), Josef von Sternberg (director) The Blue Angel (English version) / 1930
Alright, I will admit that Professor Immanuel Rath (Emil Jannings), the teacher of Literature and English at a boy's Gymnasium, a college preparatory high school, in Weimar Germany is not truly an angel. A strict disciplinarian not unlike the failed schoolteachers mocked in Jean Vigo's Zero for Conduct, Rath cannot even protect his best and favorite student from the bullying actions of the others. Apparently Rath cannot even properly teach, given the inability of some of his students to pronounce the English word "the." The only thing Rath can offer by way of learning is repetition, and when that does not work verbally, it becomes a kind of punishment as he forces his entire class to write out the word in their notebooks hundreds of times.
Certainly Rath does not comprehend the libidos of his testosterone-filled boys, who are nearly all in love with the cabaret singer Lola-Lola (an English-speaking Marlene Dietrich), and believes he can terminate their nightly trips to the local Blue Angel bar by simply showing up and gripping them by the seat of the pants.
In his bourgeois bullishness, accordingly, Rath is a true innocent, a figure who at least believes in the highest ideals even if he cannot himself represent them. One of his few pleasures of life, the song of his caged bird, is stolen from him in the first scene in which he appears, and his absolute incomprehension of its death, as he lifts the dead body into his hand in order to inspect it, is an act that immediately reveals his inability to perceive the world around him—throughout the film Rath is comically presented with unlikely objects (a pair of Lola's underwear, a native monkey-doll, a postcard in which Lola is dressed in feathers, etc) that requires his spectacles before he can even recognize what he holds out before him. If he is a fool—and he is—he is a fool as Erasmus describes it, a saintly believer not unlike Christ.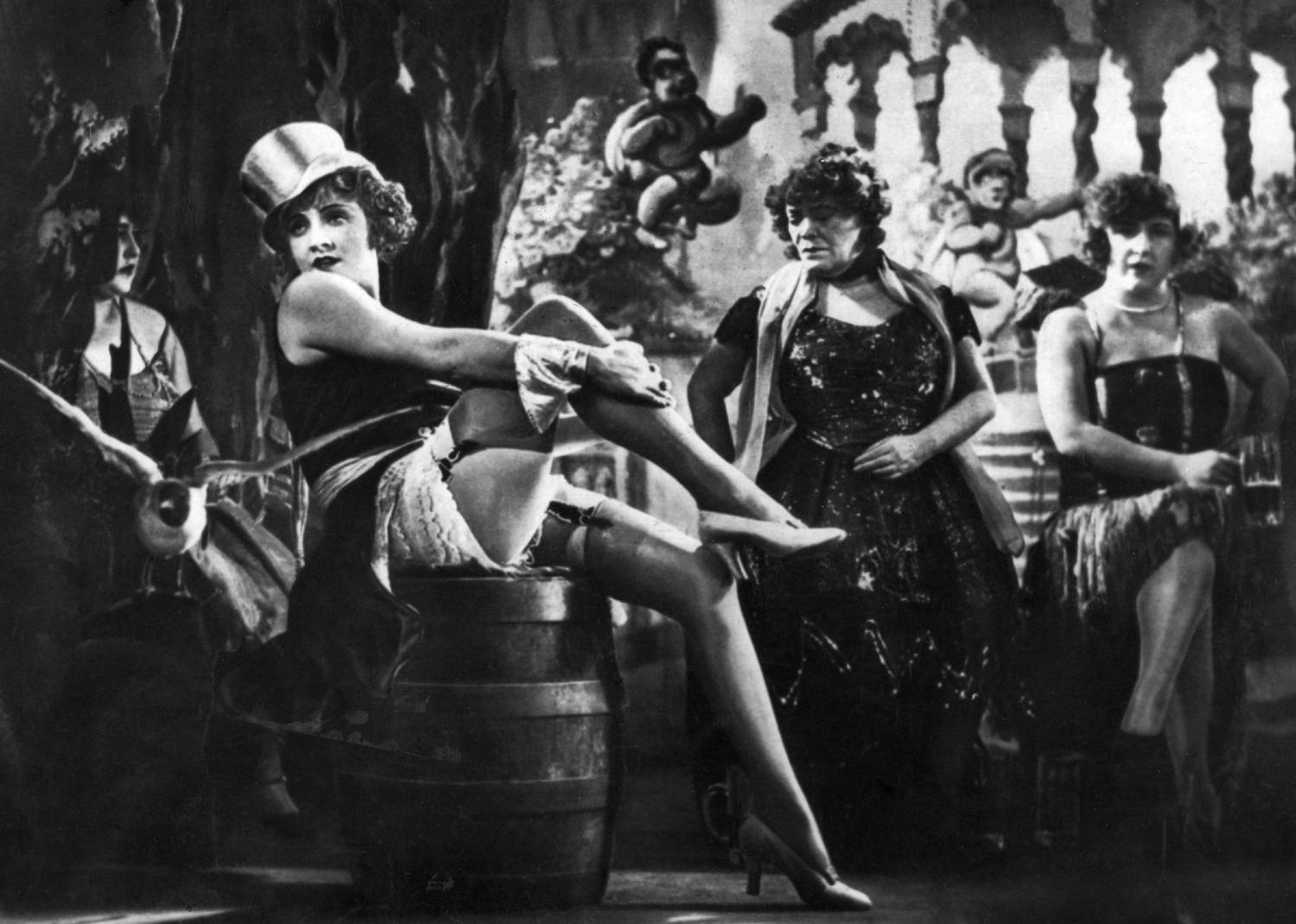 Similarly, in this English-language version of von Sternberg's 1930 film—shot in both German and English, the latter version long believed to have been lost—Lola-Lola does at first not at all appear to be a "devil." Certainly, she is a flirt, a woman aware of her powers over men, but in general she is far less course than her fellow singers, and even protects the ridiculous professor when he enters her room, defending him against the others, while gently toying with his confused state of mind. If nothing else, Lola is unperturbed by anything that happens in the comically-controlled chaos around her, and in that she is almost dispassionate, realizing her loving nature—not only being a woman in love, but always in need of love. But like so many Wiemar beauties, she cannot connect her desperate need "to fall in love again" with any personal responsibility. Don't blame her, she warbles, if men get burnt by her flame.
In short, Lola's gentle calm, even her somewhat incredulous agreement to marry Rath, does not emanate from any empathetic-feeling, but is aroused by her total selfishness. She is the center of her world, and Rath brings with him, despite his being fired from his teaching position, enough money to help her survive a few more months.
In that sense, as a woman that demands her men give up everything at her shrine, Lola is a true devil. And Rath not only sacrifices his job, his sense of being, and his self-respect, but is forced by Lola and her players, fake magicians and clowns, to become one of them, an even greater fool, a man who tries to pawn a few postcards to customers and ultimately is transformed into a kind of absurd dolt in the magician's routine, clucking like a hen while Kiepert (Kurt Gerron) pulls eggs from Rath's nose. The shock of these scenes, beautifully played by Jannings and brilliantly conceived in von Sternberg's great direction, is almost unbearable, with Rath playing both a kind of cuckold (Lola having simultaneously invited into her room the handsome strongman. Mazeppa)* but representing a kind of sad Pagliacci, forced to play out his degradation in front of his hometown ruffians at the Blue Angel of the early scenes of the movie. Indeed, "the comedy is over," as he lurches into Lola's room, attempting to strangle her.
At least that might have strangely redeemed his life. But in The Blue Angel, Rath, tied up until he calms down, is released—a release not just from love and its diabolical constraints, but a release from life itself. With no identity left and nowhere to go, Rath lurches through The Blue Angel's expressionist streets to return to the school where he had once taught, ringing for the night porter and, pushing him aside, returning to the classroom where he once taught. There the caretaker discovers him at his former desk, dead, his icy hands already locked in a grasp of that desk as if reclaiming his rightful place in a world that he has abandoned for the devil. If Rath is not exactly an angel, he is, at least, a kind of tormented saint, deserving not just our pity but our respect.
Los Angeles, March 29, 2013
Reprinted from Nth Position (April 2013).
*
Mazeppa is a name that immediately reminded me of the stripper on July Styne's Gypsy.