by Douglas Messerli
Michael Haneke (writer and director) Amour / 2012
Winner of the 2012 Cannes Film Festival's Palme D'Or, Michael Haneke's Amour is one of the least complex, in terms of plot, of his films to date. One might describe this work more as a character study of an elderly couple in love than a plotted narrative. As Elvis Mitchell in a pre-film interview with Haneke last evening at the Los Angeles County Museum of Art's Bing Theatre reconfirmed, the director, the son of two actors, works well and intensely with his casts. Haneke admitted to selecting from 7,000 children for his masterful work, The White Ribbon; but in this work he selected cast members through his knowledge of their abilities and iconic status. The film's central couple, Georges and Anne, could perhaps have been performed no better than by Jean-Louis Trintignant and Emmanuelle Riva. Isabelle Huppert, moreover, is perfect for the role of their daughter, Eva and her husband Geoff (with a British accent that slightly irritates Anne) is wonderfully realized by William Shimell.
The film begins almost mundanely—and I warn those who have not yet seen this movie that I will reveal the entire film's simple story—as the two piano teachers attend a recital, lovingly attuned to the evening as they repeat a ritual which they have performed, quite obviously, numerous times throughout their lives. But in the night, after the concert, Georges awakens to find Anne sitting up in bed. The next morning she suddenly grows silent for a few minutes, remaining, despite his pleas to answer him, like a woman of stone. As he shuffles away to call the doctor, she comes alive once more, discovering that he has left on the kitchen water faucet. When he returns to find her seemingly as her normal self, he is confused, even a bit angry. Was she performing a kind dark joke? When he explains what has happened, Anne, in turn, is worried about his husband's mental health.
They soon discover, however, that Anne has had a stroke, and despite an operation, is now paralyzed on her left side. Returning from the hospital Anne makes Georges promise that he will never allow her to be hospitalized again. Further strokes follow, but, true to his word, Georges attends her, with the help during three afternoons a week of a visiting nurse.
Slowly we see this loving couple begin the long, slow decline in health as they cope with everything from his helping her into a wheel chair, attending to her bathroom needs, and washing her hair. At first Anne is rather feisty, determined to find ways around her crises; but when she falls while he is attending a friend's funeral, both begin to realize that her condition is quickly declining. Georges, moreover, is himself quickly aging through her constant need of attention.
A surprise visit from one of her formal pupils, Alexandre, who performs a piece she has taught him, only reiterates what she has lost. It is one thing that she can no longer play the piano, but the music itself, which they once so joyfully shared, has now become a painful reminder of what she has now do without. So Haenke reminds us that even the remembered pleasures of the past do not always sustain us in our dying.
Anne becomes depressed, almost seeking out death. Yet Georges reminds her that she would do what he is if it were the other way around. The caring has now become representative of their years of love, as each embracement of her becomes a kind of macabre dance.
A second nurse is less patient with Anne than the other caretaker, brushing Anne's hair with such harshness that the elderly woman calls out in pain. Georges quickly fires her, while realizing that he is himself having a more and more difficult time in caring for her, particularly since she often refuses to eat or drink. At one point when Anne stubbornly spits out the water he has tried several times to make her swallow, he slaps her cheek, immediately regretting the spontaneous act and apologizing, but he knows he has now crossed the line.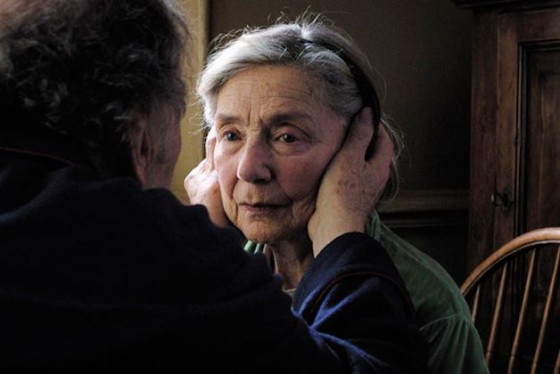 Upon a surprise visit to her family—necessitated in part because of Georges refusal to answer the phone and messages—Eva finds the door to her mother's room locked, with Georges suggesting that she come back another day. To his terrified daughter, he recounts their simple activities, his early rising because of her lack of sleep, his attempts to feed her, the stories he tells her to calm and reassure her. We have seen these activities in the process, his gentle strokings of Anne's hands, his attempts to placate the wife who has become a bawling child, mumbling over and over again: "It hurts."
Eva is furious in disallowing her access to her mother, and he realizes his mistake, opening the door only to reveal a now thin, frail corpse-like figure lying upon the bed. The shock of the disintegration of this once vital figure brings both the daughter and Haenke's audience to tears.
We can now see that Georges himself can hardly move, seems himself about to fall. During one of Anne's most painful outcries, the tired husband tries to calm his once beautiful wife with a childhood story that reminds one almost of a wicked fairy tale. As a child he had been sent to a summer camp in a castle, where the major focus was on group sports, an attempt to keep the children constantly moving. Not being the sporty type, as he describes himself, he

was tortured by the regimen. The food, moreover, was terrible. When he refused he eat rice pudding, which, he reiterates he has hated all his life, he is punished by being forced to stay at the table for several hours. When he is finally released he has a fever, a falls into coma with diphtheria.
In this frightful reminiscence we recognize his despair from the fears of his own increasingly diseased condition. He is faced with a dilemma all elderly couples who stubbornly attempt to retain their self-reliance and dignity must face: how to go on beyond the point where one knows one cannot. Georges suddenly grabs a large pillow and moves to suffocate his beloved wife. She is frail, has herself sought death earlier; yet Haenke does let the act be one of salvation and release, but displays its brutality as Anne thrashes about, kicks her legs, and attempts to survive. She does not.
In the last few scenes, we see the aging Georges sealing shut the door to wife's room, writing a long note, apparently in an attempt to explain his acts. In bed, he suddenly hears noises, and arises to find his wife finishing the dishes. She will be ready soon to go out, she says. And together they put on their coats as if they were planning to attend another concert or simply go for a walk. What we realize through this dream-like scenario, is that he has joined her, followed her into the dark night where her life has taken her. In the very last scene, Eva sits alone in the lit-up apartment, clearly pondering her parent's long-lived love.
It may be hard to understand this tale of pain, suffering, and murder as a love story, but that is what Haenke has created: a story of a couple who love one another so deeply that they have no choice but to destroy one another.
Los Angeles, October 2, 2012
Reprinted from Nth Position [England] (November 2012).