by Douglas Messerli
Tom Stoppard Rosencrantz & Guildenstern Are Dead (New York: Samuel French, 1967)
Tom Stoppard (writer and director) Rosencrantz & Guildenstern Are Dead / 1990
Stoppard's brilliant 1967 play takes the two minor characters of Hamlet through an existentialist journey made up of language, a world in which these two anti-heroes, inexplicably called into being by a court messenger, can participate only through linguistic games as they try to explain their existence and purpose. The marvel of this play was its youthful wit as the two original actors, Brian Murray and John Wood, attempted to best each other with rapid-fire language games:
Ros: We were sent for.
Guil: Yes.
Ros: That's why we're here (He looks round, seems doubtful.
then the explanation
) Travelling
Guil: Yes.
Ros: (Dramatically) It was urgent—a matter of extreme urgency,
a royal summons, his very words: official business an
no questions asked—lights in the stable-yard, saddle up
and off headlong and hotfoot across the land, our guides
outstripped us in breakneck pursuit of our duty! Fearful
lest we come too late!
Ros: How do I know? We haven't got there yet.
Guil: Then what are we doing here, I ask myself.
Ros: You might well ask.
Guil: We better get on.
Their "getting on," however is harder than one might expect as they encounter, in a play within a play, a group of performing actors who attempt to play out a play very similar to the play they are living within. Once they do reach Elsinore, moreover, Hamlet himself is playing with "words, words, words," as large groups of people come and go, vaguely ordering the pair to note Hamlet's behavior and comments. Yet, since these minor figures have few encounters with the Danish Prince, most of what they observe is "offstage," through the cracks of walls, leaving them more confused than ever.
One of the great delights of Stoppard's play is that despite this couple's inability to know even which of them is Rosencrantz and Guildenstern, what their relationship is to each other (they are simply a "couple," although the playwright in determining that suggests perhaps something more than a deep friendship), or what their true relationship is to Hamlet; they are simply told they are old school friends.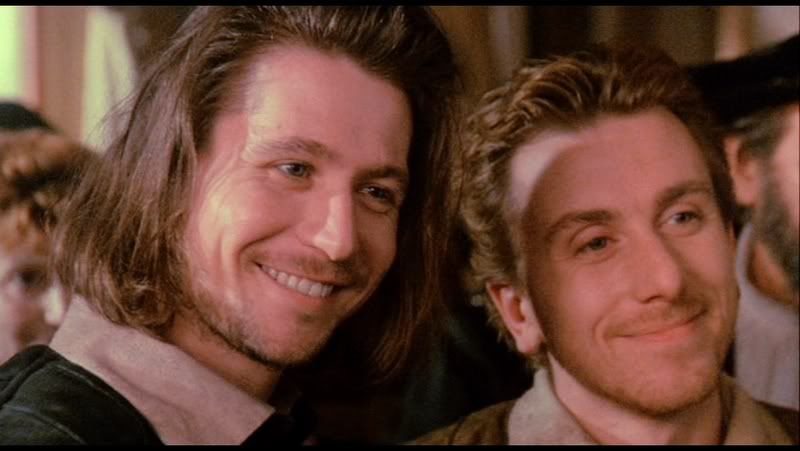 The irony, of course, is that the audience already knows their fate—the fate of nearly everyone within the play and everyone sitting in the audience as well, which the playwright (just in case someone may have never read Hamlet) announces in the title itself. Consequently the substance of the play depends upon their not-knowing, despite their intense cleverness, revealed, particularly, in their philosophical and scientific thinking. The great pleasure of Rosencrantz & Guildenstern Are Dead, in short, is its Beckett-like representation of two clueless everymen who trip through the language like clowns in their attempts to comprehend their imposed reality.
It may be a basic trope—played out in numerous characters from Bouvard and Pecuchet, Vladimir and Estragon, and even Abbott and Costello—but it works, at least on stage and page, because of its basic dialogical rhythms, which is at the heart of theater.
At the heart of film, however, is the image, and transforming a work of "words, words, words," despite the fact that the playwright remained in complete control of this film, is most difficult. While the play begins immediately with the toss of a coin (reinstating the themes of game and chance), Stoppard's movie version begins with a long ride through time and space, with an even longer vertical dip by Guildenstern to reach down for a coin he has spotted upon the ground. In these visual maneuvers, everything changes, and what once was clever and witty—what once was based on "timing"—is slowed down in narrative pace. By the time Rosencrantz and Guildenstern get into their dialogue, the audience has lost attention, and the characters seem leaden.
I never saw the original production (my companion, Howard, did see it, however, at the Alvin Theater in New York), but I am certain behind the verbal gymnastics of the original actors was a great deal of joy; in the film, although Gary Oldman (as Rosencrantz) and Tim Roth (as Guildenstern) are fine actors, they seem to approach their verbal roles so diffidently that they appear more as dolts rather than swordsmen of language.
The busy costumes and sets of the players, moreover, distract us from any comments with which the two may joust. The abused child-actor Alfred is converted into a knowledgeable drag-queen, removing some of the naughty sting of the original. And by the time the couple reaches Elsinore, with its cavernous spaces, almost any linguistic arousal has been dampened.
Strangely, Stoppard encourages this even further by having the seemingly less intelligent Guildenstern express his intelligence in a series of visual puns surrounding various physical principles such as Newton's cradle, Newton's law of universal gravitation, the Greek principle of steam power, and the creation of a bi-wing plane. At moments, these actions seem entertaining, but once more they slow down the language which is the essential engine of Stoppard's play.
Several critics have argued that the film failed because of its attempt to bring such a high level of language to the screen. But I would argue just the opposite; it is almost as if the playwright, determining to make the work a visual manifestation of his story, pulled the plug on the very source of its energy.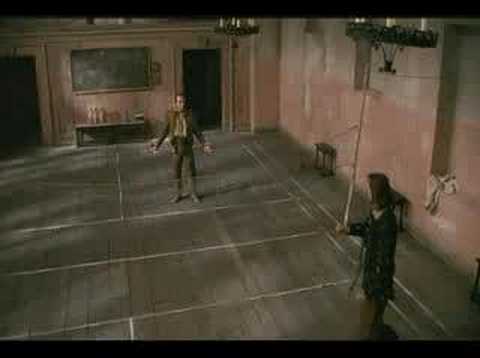 In fact, what Stoppard does is to turn the play Rosencrantz & Guildenstern Are Dead, inside out. Instead of allowing the obscure figures to become the focus of the play, his cinematic intrusions of time and space, refocus our attentions onto Hamlet. Richard Dreyfuss and the Lead Player, Iain Glen as Prince Hamlet, Ian Richards as Polonius, and Joanna Miles as Gertrude are such fine actors that, speaking Shakespeare's lines, they dominate the play, and like this Rosencrantz and Guildenstern, we are more attracted to the action going on "onstage" (which might have been described as "offstage" in the original) than we are the shenanigans of the sparring couple. In short, the movie entirely loses the focus of the original play, ending up with in the dead center of what was once a vortex, where, as Wyndham Lewis described it, art becomes abstract.
Accordingly, I believe the language-bound original was less abstract than Stoppard's visualization of his work, which is far more representational than the very human rendering of complex ideas of the original.
By comparison with the "still-lives" portrayed by Rosencrantz and Guildenstern, the lightness of Iain Glen's acting seems anything but morose. Even Polonius seems more light on his feet that the two actors at the center of this filmed version.
Perhaps a "staged" film might have generated more excitement than this camera-busy "representation" of what once was a verbal delight. The death of Rosencrantz and Guildenstern, unfortunately, does not occur at the end of Stoppard's film, but in its very earliest scenes, and we can only wonder, as does the comic couple of the title, whether there was a time at the beginning when they might have said "no" to their excruciating voyage.
Los Angeles, July 4, 2013